IP Australia fee increases for trade mark applications effective 10 October 2016
From 10 October 2016, IP Australia fees changed. The fee changes affect trade mark applications as follows:
application fee for the first class, from $200 to $330;
application fee for each other class, from $200 to $330;
registration fee for the first class and each other class, from $300 per class to nil; and
renewal fee for 10 years, from $300 to $400.
While the IP Australia fee changes means the total price of some Cleardocs document packages will change, Cleardocs fees and charges remain the same.
Cleardocs now provides expert and accurate financial planning EBooks
You can now purchase important financial planning chapters from the Australian Financial Planning Handbook from Cleardocs. The Australian Financial Planning Handbook is the authoritative source of information on a range of financial planning issues and is the ideal companion for any financial planner and/or accountant.
We've picked out the most important chapters and made them available to you instantly. Provide expert, accurate and practical financial advice on Superannuation, Retirement Planning, Estate Planning and Small Businesses saving you research time and increasing your ability to meet compliance requirements.
Cleardocs wins CoreData SMSF Service Provider Award.. Again!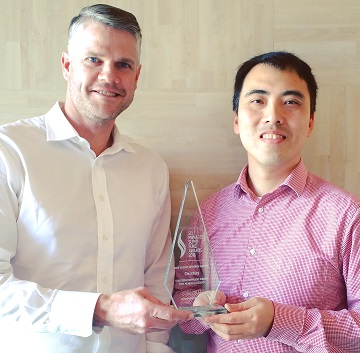 Ben Scull, MD, ANZ Tax & Accounting, Thomson Reuters (Left) and Thomas Lam, Business Manager, Cleardocs (Right)
For two years in a row, Cleardocs has been announced as the Best Trust Deed Supplier, SMSF Member Category, at CoreData's SMSF Service Provider Awards.
The Cleardocs team works hard to deliver market-leading products but the true hero in this case are our customers — YOU! We cannot be more thankful as none of this would have been possible without your support.
We have always promoted compliance and as winners of an SMSF award we would like to assist you in ensuring that all your SMSF documents are up-to-date. As a thank you for your support we would like to offer a whopping 30% off SMSF Investment Strategy and Update to SMSF so you're complying with your obligations under superannuation law.
This exclusive offer for existing Cleardocs customers is valid till 30 November 2016 on repeated purchases. To have the offer applied to your account please contact our friendly helpline on 1300 307 343.
If you have more than 10 SMSFs to update, Cleardocs is happy to assist. Simply send us details of all the SMSF funds that need to be updated and we can prepare the orders for you!
Again, thank you for your loyalty and belief in us. We look forward to continuing to provide you with high quality market-leading legal documents.